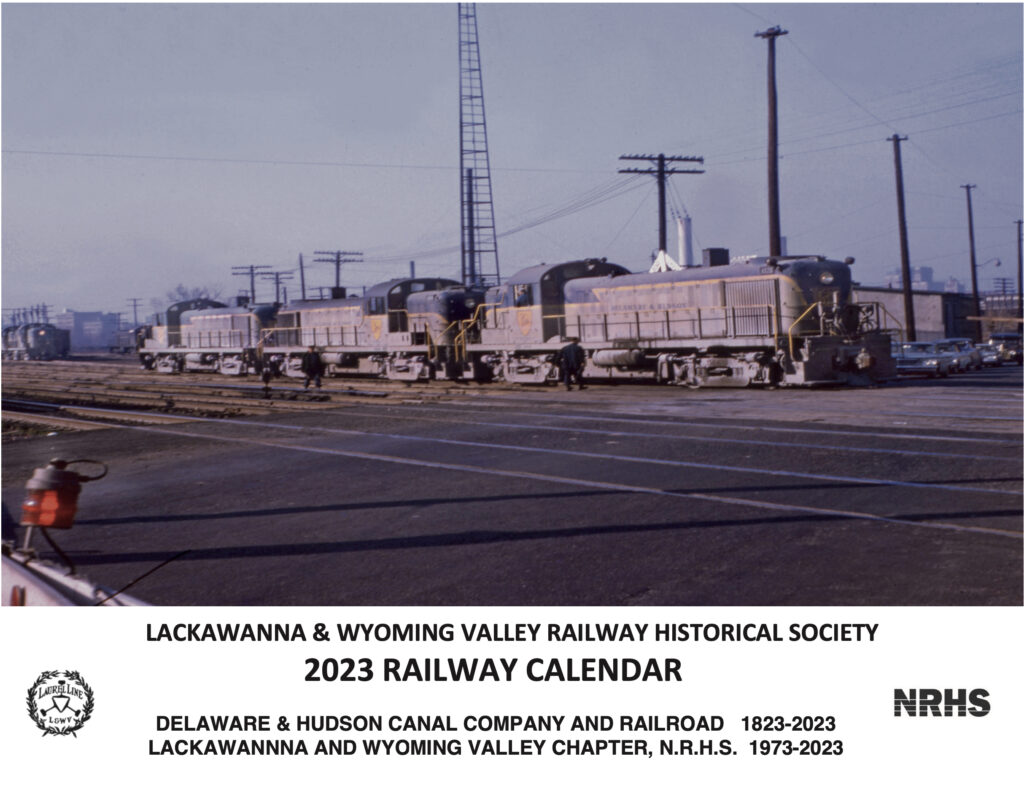 The Lackawanna & Wyoming Valley Railway Historical Society is pleased to announce that our 2023 Railway Calendar is now available for sale. This 44th edition of our calendar includes a color cover and an assorted color and black and white photos of rails in Northeastern Pennsylvania.
In 2023 we celebrate two important anniversaries. This year marks the 50th anniversary of our Chapter, which is named for the Lackawanna & Wyoming Valley Railroad, an all-electric line that connected Scranton and Wilkes-Barre. We received a charter from the National Railway Historical Society on November 11, 1973. 2023 is also the 200th anniversary of the Delaware & Hudson Canal Company, which later became the Delaware & Hudson Railroad. The D&H received its charter in April, 1823. The D&H was an important railroad carrier in our region with major facilities in both Lackawanna and Luzerne counties.
Because of these two anniversaries we have decided, for 2023 only, to modify the usual calendar format to have all photos recognize both the Delaware Hudson Railroad and the Lackawanna & Wyoming Valley Railroad, better known as the Laurel Line. We have included a variety of D&H and L&WV photos in this special edition of the calendar. We have also included bonus photos, making a total of 18 pictures including the cover.
.
The 2023 Calendar sells for $ 17.00 ($17.15 online) and is shipped via first class mail.
If you wish to order by mail, please download the form at this link.
Online ordering available here: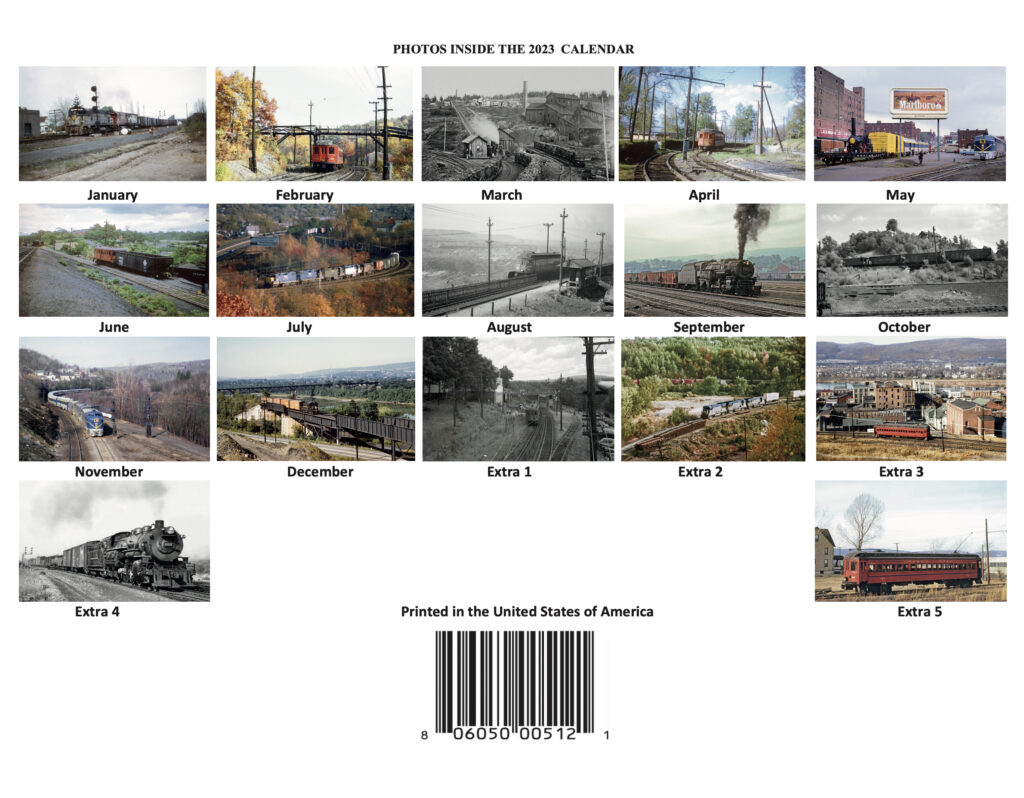 COVER: Delaware & Hudson RS-3 No 4075 and two unidentified units crossing Scott Street near the yard in Wilkes-Barre. (Color)
JANUARY: Delaware & Hudson C-628 No. 613, Lehigh Valley No. 638 and an Unidentified unit approaching Bowman Street crossing in Dickson City (Color)
FEBRUARY: Lackawanna & Wyoming Valley #115 moving southbound through Virginia near the junction of the Minooka Branch in Scranton (Color)
MARCH: View of Delaware & Hudson Gravity Railroad Plane No. 23 in Olyphant in 1860 with loaded and light tracks and steam locomotive. (B&W)
APRIL: Lackawanna & Wyoming Valley No. 115 rounding the turn near the Luzerne County Courthouse in Wilkes-Barre. (Color)
MAY: View of a collection of Delaware & Hudson equipment for a 150th anniversary display including replica of the Stourbridge Lion at the freight house in Scranton. (Color)
JUNE: Lackawanna & Wyoming Valley Railroad freight locomotive No. 403 working cars at the Inkerman siding near Saylor Street in Inkerman. (Color)
JULY: Delaware & Hudson GP-38-2 Nos. 7325, 7319, GP39-2 Nos.7406, 7603(?). and an unidentified U23B with train WR-7 leaving Scranton on detour move. (Color)
AUGUST: Lackawanna & Wyoming Valley No. 36 at the Dupont station located on platform over Main Street – US 11- In Dupont. (B&W)
SEPTEMBER: Delaware & Hudson 2-8-0 No. 1216, an Alco built e-62, with a string of loaded hopper cars in Carbondale Yard. (Color)
OCTOBER: Lackawanna & Wyoming Valley Railroad freight locomotive No. 403 pulling cars up the Minooka Branch in Minooka outside Scranton. (B&W)
NOVEMBER: Delaware & Hudson PA-1's Nos 18, 19, and 17 pull a southbound Penn Division excursion train into Carbondale Yard (Color)
DECEMBER: Lackawanna & Wyoming Valley Railroad freight, led by leased DL&W SW-1 No. 352, pulls a northbound across the Prospect Viaduct north of Wilkes-Barre. (Color)
EXTRA 1: Lackawanna & Wyoming Valley Railroad No. 35 with No. 32, southbound. departing the Rocky Glen Park station in Moosic. (B&W)
EXTRA 2: Delaware & Hudson U23B No. 2304 and two unidentified units lead train BS-1 into Taylor Yard on connection to recently opened ex-Lackawanna line to Binghamton. (Color)
EXTRA 3: Lackawanna & Wyoming Valley Railroad No. 39 northbound passing above Pittston just north of the Pittston station. (Color)
EXTRA 4: Delaware & Hudson No. 1063 with local freight heading north near Lookout Junction south of Carbondale Yard. (B&W)
EXTRA 5: Lackawanna & Wyoming Valley Railroad No. 39 on an excursion just south of Davis Street on the Minooka Branch in Scranton. (Color)