The Lackawanna & Wyoming Valley Railway Historical Society 2020 calendar is available now. It can be ordered online in our web store or via US mail (see below). As you have come to expect over the years, the calendar features photographs of local rail lines, provided by members or friends.
This year all but one of the photographs is from the collection of Chapter Charter member Edward S. Miller, who passed away in 2010, at the age of 90. This year, 2020, would be Ed's 100th birthday if he was still with us. For this reason all the photos are from Ed Miller's collection, except as noted.
The 2020 Calendar sells for $ 10.00 and is shipped via first class mail.
If you wish to order by mail, please download and print the form here.
To order online, use the link below:
A brief description of the photos in the calendar appears below:
If ordering as a gift, please supply the correct name and address for the recipient.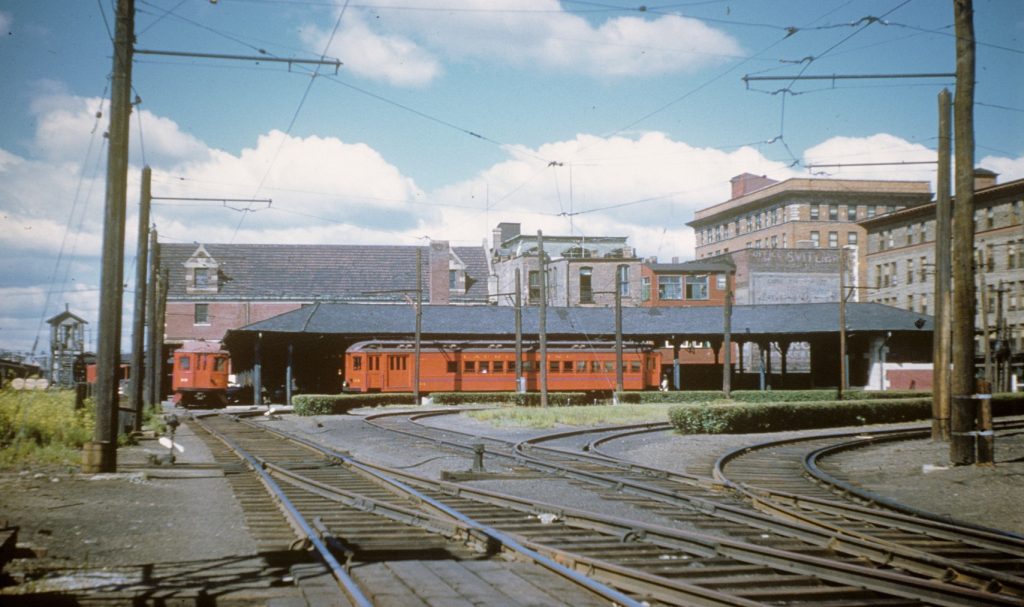 COVER: Lackawanna & Wyoming Valley Railroad Nos. 114 and 33 at Wilkes-Barre Terminal in 1952.
JANUARY: Canadian Pacific GP-9 8221, SD-40 No. 5410, and Delaware & Hudson RS-11 No. 5002 with Train 557 passing former Factoryville Station on ex- DL&W line in early 1990's.
FEBRUARY: New York Ontario & Western 2-8-0 No. 203 in yard area in Scranton at south end of Scranton Division on May 12, 1939.
MARCH: Central Railroad of New Jersey RDC's Nos. 557, 556, 555, and 553 north of Main Street crossing in Moosic in September , 1959.
APRIL: Seaboard System No. 8051, Family Lines No. 8064, and CSX Nos 8151 and 8230 pull D&H train 555 into Taylor Yard in October, 1991
MAY: Erie Lackawanna GP 7 No. 1279 on Delaware & Hudson in Archbald with local freight bound for the Jefferson Railroad, the former Erie line north of Carbondale, in April, 1974.
JUNE: Erie Railroad 2-10-4 No. 2428 with a special excursion Farewell to the Wilkes-Barre & Eastern at Avoca Yard in June, 1938.
JULY: Delaware & Hudson U30C's Nos. 704 and 706, recently delivered from General Electric, along with RS- 11's Nos. 5016 and 5011 with train RW-6 passing under former L&WV Avoca Viaduct in January, 1968.
AUGUST: Lehigh Valley Railroad Nos. 2141 and 2060 pull the Asa Packer eastbound, just south of Pittston, in January, 1946.
SEPTEMBER: Scranton Transit Company Nos. 503, 508, 414 and snow sweeper No. 102 in yard area off the Mulberry Street Bridge in Scranton in March, 1953.
OCTOBER: Conrail GP-38-2 No. 8117 with local WPPJ-10, Delaware & Hudson RS-11 No. 5002, and Lackawanna Valley RS-18 No. 1801 working in Taylor Yard in 1985.
NOVEMBER: Delaware Lackawanna & Western 4-6-4 No. 1140 pulling train No. 1702 into Kingston in August 1947 with Pullman cars from the PRR which connected to DL&W in Northumberland.
DECEMBER: West Pittston and Exeter S-2 No. 6 as part of an Erie Lackawanna freight crossing Delaware Avenue in West Pittston in January, 1973, shortly after the WP&E closed.
EXTRA 1: Wilkes-Barre Railway Company No. 790 turning from Market Street to Main Street in Nanticoke in the late 1940's.
EXTRA 2: View of Lackawanna Avenue in Scranton taken from intersection of North Washington Avenue in 1890.